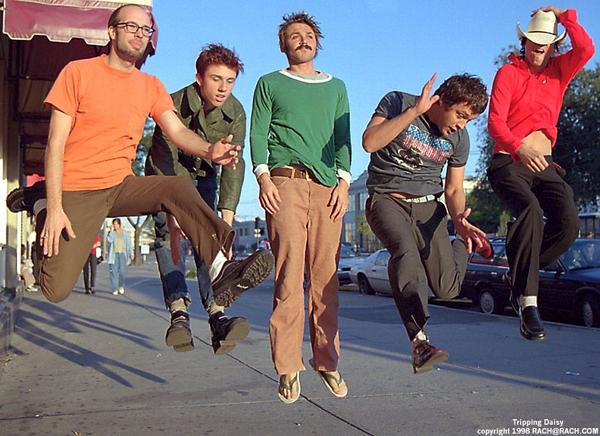 We swung open the doors to Vino's, and there he was. His back was to us, but we'd know him anywhere. Jeans, t-shirt, messy hair - it was Wes Berggren of
Tripping Daisy
. This felt like a dream. It was my first time at Vino's, and Tripping Daisy was without any shred of doubt my favorite band. And here they were right in front of me.
I wasn't there to see them play though. My parents had forbidden me to go see the show. Even though Vino's was an all-ages venue, and Tripping Daisy were a totally non-controversial band - they barely even cussed in their songs - I was not allowed to see the show.
I probably could have flat out lied, but I chose the slightly more honest route. I wouldn't stay for the show, but I'd show up early, meet them, and listen to sound check. It was the best I could do without having to lie.
Oswald's Pool
Lane, Patrick and Alex were in a band called Oswald's Pool. Lane was my boyfriend, and he was the one to introduce me to Tripping Daisy. In fact, he introduced me to music. Before Tripping Daisy, I listened to whatever my folks had on the radio. I had a few CDs I'd inherited from a friend - Sublime and 311, if I recall correctly - and several Contemporary Christian Music tapes (DC Talk, Point of Grace, Lisa Bevill, Petra, Stephen Curtis Chapman...). Then Lane introduced me to TD, and my world was flipped inside out. TD, along with Jane's Addiction and Porno for Pyros, became the soundtrack of my life, but Tripping Daisy was by far the band that opened up a new world to me. I knew every song and had every album and knew all the trivia, and though the internet was still a baby, I'd searched it up and down for photos of the band that I could print off and tape to all my notebooks.

And now, there we were, Lane, Patrick, Alex and I, standing in Vino's, ten feet away from the guitarist.


A few minutes later, we spotted Tim DeLaughter, the singer and frontman. The guys had met Tripping Daisy before, and assuming my memory isn't telling lies, Oswald's Pool had even opened for them once with the theme tune from Muppet Babies. They introduced me to Tim, and later Mark Pirro, Philip Karnats and Ben Curtis, and eventually Wes. Tim signed Lane's cup "Love, Tim" with a heart and arrow and let us stick an Oswald's Pool sticker on one of their amps. We sat in the front tables during sound check, and nothing in my life came anywhere close to euphoria of hearing them sing tunes from Jesus Hits Like the Atom Bomb right there in front of me, live. I bought a poster. And then, like a good little girl, I went home before the show started. I was heartbroken.
A few years later, Wes Berggren died, and Tripping Daisy was no more.
T-shirt still fits
I never got to see Tripping Daisy play a live show. I had t-shirts, posters, albums, bootlegs, and when Tim DeLaughter started his new band Polyphonic Spree, I was in the fan club and got the first release of the album, back when the songs didn't even have names, just numbers. In college as a radio dj for the student station KXUA 88.3 I did a feature show on Tripping Daisy in which I played two hours of Tripping Daisy, filling in the gaps with trivia and taking requests from fans over the phone. I also wrote a research essay about them in my
Folk and Pop Music Traditions
class entitled "Lost In Just Living".
Several years later, while living in Scotland, Polyphonic Spree came to Edinburgh. I got the chance to see Tim, Mark and Bryan Wakeland play in their new band. I stood in the front row, sang every song along with them and left that night feeling like a little part of something I'd missed out on had been restored. After all, I'd never have the chance to see Tripping Daisy live, so Polyphonic Spree was the next best thing.
Y'all, until now. Yesterday I found out that Tripping Daisy are playing at the Homegrown Festival in Dallas in May. This will be their first show in 17 years. And I now have tickets.
It's time to pull out Bill, I am an Elastic Firecracker, Jesus Hits, Tops Off Our Heads, Get It On, Time Capsule and the self-titled final album Tripping Daisy. (I never did score the Hook Music EP, but Lane had it.) I have a lot of listening, crying and reminiscing to do.
See you in May, boys.