One of the coolest, most interesting classes I took in college, the kind of class that colleges should offer more of, the kind of class that is quintessentially "college", was Folk and Pop Music Traditions. It was in the English curriculum, since we studied the lyrics as much as the history and the music itself, and was taught by a really hipster older guy professor,
Dr Bob Cochran
.
Dr Cochran introduced us to all kinds of music I'd never have listened to myself, from the Carter Family to Merle Haggard to Gram Parsons. It is Gram Parsons though who's music and story has stuck with me all these years.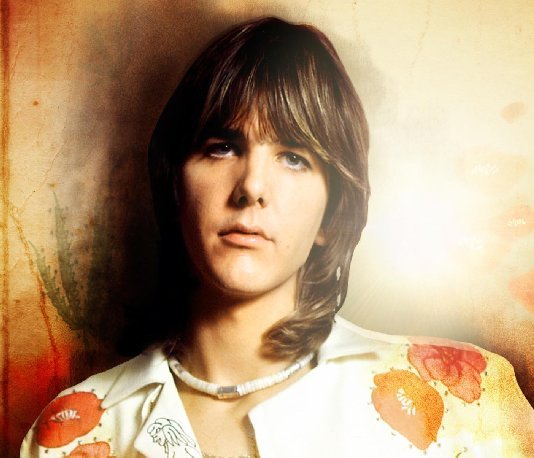 He introduced us to Parsons by playing "Love Hurts" for us in class. His intent was to differentiate for us the difference between pathos and bathos. (Pathos is the quality of evoking sympathy and sadness in someone. Bathos is when the attempt at pathos goes overboard into ludicrousy or gross sentimentalism.) The class silently took in this song, a duet between Parsons and Emmylou Harris, whose voices blend together more beautifully than any two voices I've ever heard. When the song was over, the class sat silently, reverently. Dr Cochran laughed.
"I see you guys were taken in by that song. I was trying to show you bathos, but you all bought right in to the sentiment."
He may have forgotten that while he had all the wisdom of his 50 plus years, we were all still children living and breathing the raw truth that love hurts.
The story of Gram Parsons is just as enticing as his music. Or maybe just the story of his death. His life was that of a typical 1960s rock star - nudie suits, tours, drugs. But his death - what a story!
He was found dead in his hotel room during a tour; the official report was drug overdose. Not uncommon. But his step-father, who had very little to do with him, requested that his body be returned to Louisiana, allegedly due to a family estate issue, and arranged a small funeral for him, excluding all of Gram's actual friends in the music industry. Gram had recently expressed wishes to be cremated when he died and have his ashes spread in Joshua Tree National Park, his favorite place on earth. So what did his loyal friends do?

They stole his dead body from the airport, of course, borrowed a hearse and drove Gram's coffin to Joshua Tree. Unsure of how to actually cremate a body, they just poured gallons of gasoline on the coffin and lit a match, while drinking beer and sharing stories of their deceased friend. It didn't result in the small, funereal fire they expected, however, and the raging fireball resulted in a police chase. Gram's friends couldn't be arrested though, because there was no law on the books against stealing a dead body. They were fined for stealing a coffin, and that's about as much the law could muster against them. Gram's wishes were - sort of - granted.
That's friendship. That's rock n' roll. That's - bathos?
Yesterday in a coffee shop, I heard "Brass Buttons" playing in the background, another Parsons' tune that tows the line between pathos and bathos. It reminded me it's been too long since I listened to Grievous Angel, my favorite Gram Parsons album. That would be due to my CD snapping a few years ago in our move from Scotland to Arkansas. But Amazon Prime Music came to the rescue, and I was able to download Grievous Angel and listen to it three times in a row back to back. Honestly, could Emmlylou and Gram's voices weave any better?
(Apparently, Emmylou hated touring with Gram. Apparently, he was a bit of an asshole.)
Anyway, thank you, Starbucks, for reminding me of the fantastic rock fairy tale that is Gram Parsons, of the most interesting college class I've ever taken, and that love doesn't really hurt so bad in the end, once you find the good kind.